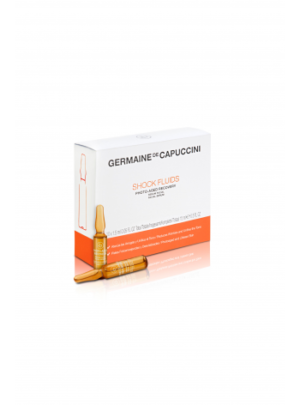 SHOCK FLUID PHOTO-AGED
Germaine de Capuccini presents SHOCK FLUIDS.
A collection of facial serums that provide intensive and specific solutions for specific problems. With visible results from the first moment of application they work from inside the skin, strengthening and recovering it. They enhance the effectiveness of the daily treatment.
PHOTO-AGED RECOVERY – FACIAL SERUM
Repairing and regenerating shock that corrects premature signs of photo-aging. Recovers skin damaged by the sun, correcting the visible signs of over exposure. In the short-term the skin recovers hydration, suppleness and luminosity.
When?
After the summer
Excessive sun
After a weekend in the snow
$

57.40
Add to cart