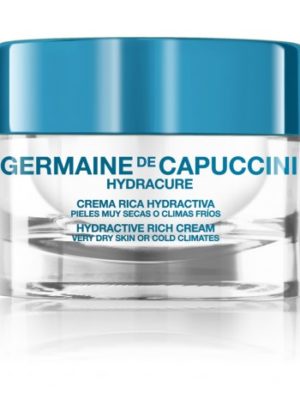 HYDRACURE HYDRACTIVE RICH CREAM for very Dry Skin
HYDRACURE HYDRACTIVE RICH CREAM is meant for those individuals with VERY DRY SKIN and/or exposed to COLD Climates.  This cream has highest hydration potential of all of Germaine de Capuccini's moisturizers.  It provides rich hydration, instantly, relieving the tight sensation of overly dry skin.  It helps the skin to recover, maintaining hydration levels and protecting it from excessive moisture loss.
Formulated for Very Dry, Dehydrated Skin and skin which is exposed to COLD conditions.
$

87.40
Add to cart