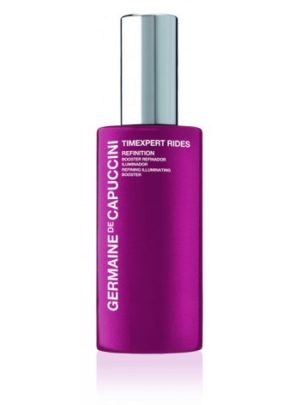 TIMEXPERT RIDES REFINITION ILLUMINATING BOOSTER
TIMEXPERT RIDES REFINITION ILLUMINATING BOOSTER is the first refining "booster" with fast action that recovers the homogeneity and luminosity typical of youthful skin. This is a powerful serum of which effectiveness is bases on the 3HD CORRECTION triple correction technology. A powerful combination of ingredients that work on three levels: 1.- HD Tone Correction: corrects irregularities in colour of the skin. Redness and roughness are softened thanks to an effective complex composed of seven extracts. Photo-corrective agents takeout of focus imperfections, the skin appears mat with no shiny spots. 2. – HD Line Correction: The revolutionary Moisture Trap system has hydrating properties and an immediate filling-in effect on wrinkles and pores, so the skin's surface is smoothed. A group of oligosaccharides regulate oil production and the structure of the dermal collagen is strengthened which effectively tightens the pores and counteracts the shiny appearance, resulting in retexturised skin. 3. – HD Line Correction: Wrinkle Correcting technology with Pro-Collagestine-Fill Technology which promotes collagen and elastin to intensify the skin's natural "filling-in power", expression lines between eyebrows, "crows-feet", vertical and perioral lip lines are instantly smoothed.
Apply daily on face and neck, morning and/or evening, after the usual treatment cream without massaging.
$

147.80
Add to cart