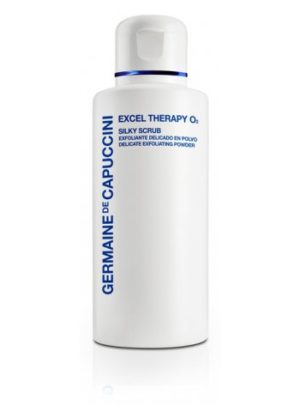 EXCEL THERAPY O2 SILKY SCRUB ENZYMATIC EXFOLIATING POWDER
EXCEL THERAPY 02 SILKY SCRUB ENZYMATIC EXFOLIATING POWDER. A gentle, keratolitic exfoliator that becomes a foam and allows for a deep cleansing, eliminating impurities, excess sebum and dead skin cells from the skin. Recommended for all skin types especially for the most sensitive and delicate skin, even dry skin and skin with acne. After its removal the skin appears clean, silky, brimming with luminosity and freshness and prepared for other treatments to be applied subsequently.
Moisten the skin, and put a small amount of the powder into the palm of the hand, mix with a few drops of water to form a smooth foam. Apply to the skin and massage with fingertips and circular movements for a few minutes, paying more attention to the most difficult areas such as chin, forehead, sides of the nose, etc. Remove with wet sponges or cotton pads and plenty of warm water. Always follow with the application of the appropriate toner/lotion to restore the pH of the skin and finish with the chosen emulsion or cream, eye cream and neck cream.
$

101.60
Add to cart